« June 2006 | Main | August 2006 »
July 28, 2006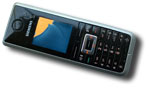 This phone was a replacement for an eaten phone. It had just been broken in when it nearly met it's maker.
Only the display was busted so it was still possible to receive calls but much harder selecting entries from the phone book leading to some very random calls.
July 24, 2006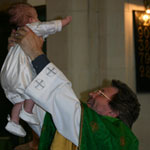 Friends and family, we thank you for attending the christening of our son.
The event was wonderful and emotional and will forever be remembered.
The Godparents outperformed themselves but we did not expect anything less from them. The highlight was the Godfather getting his speech just seconds before holding it in front of the congregation.
As always a grand reception had been planned by my wife. This time it was in the Winter Garden of the Landmark Hotel.
It had been a hot day and the non-stop serving of well chilled Taittinger champagne was appreciated by all.
Don't be looking for me the next 7 days as the whole family is away in Scotland visiting grand castles and small distilleries.
July 21, 2006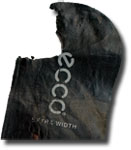 Funny thing with a teared appart shoe is how useless the other shoe becomes. Unless two pairs were purchased and miraculously the dog eats the other shoe from the other pair.
Loosing this shoe was especially painful. I had spent a fair amount of time selecting the model while on a visit to Sweden but not being able to find the right size.
Later that weekend I found the right size at Copenhagen airport but at a 50% higher price (what's up with those inflated Duty Free prices anyway).

July 19, 2006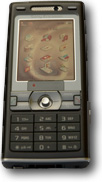 The K800i is one of the latest phones from SonyEricsson and it offers almost an overload of features. A 3.2 megapixel auto focus camera, 3G (UMTS) support, highly visible QVGA display and powerful MP3 playback being some of the most prominent ones.
The phone has received a face lift from last year's K750i. It is noticeably heavier and a shade bulkier due to larger display and a beefier lens cover.
SE must have listened to disappointed users who found the k750i a bit "plasticky". Several plastic panels have been replaced with discreet brushed steel and the squeaky plastic buttons have been replaced with rubber covered ones.
With the 3G (UMTS) comes services like mobile TV, faster data transfers and video calling. A second lower grade camera (CLI) has been fitted on the front side of the phone to be used during video calls. You can also follow your favourite TV show (Big Brother?) in low quality but it will cost you.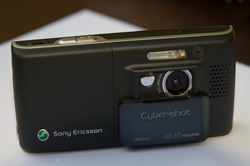 3.2 megapixels allows for even better quality pictures than with the previous 2.0 megapixel model. Further added photo features are Sony BestPic-TM and a proper Xenon flash.
BestPic-TM is a term for automatically taking 8 pictures during a second when the shutter button is pressed down. The user can then choose one or more best pictures to keep from the set.
A Xenon flash is normally used in traditional digital cameras and is much more powerful than the previous LED flash used in current mobile phones. One downside is that the Xenon flash cannot be turned on in continuous mode like the older LED flash. I for one will miss the emergency torch feature the LED flash offered.
Here is an unprocessed sample shot from the K800i 3.2 megapixel camera.
Naturally the phone supports the standard messaging formats like SMS, email, MMS and etc. A new addition is a basic RSS feeder. You can add your favourite RSS feeds and schedule automatic updates. The phone will alert you when there are new entries and show short excerpts.
The built in web browser has been improved and together with 3G speeds the browsing experience is even closer to a standard PC. Despite the browser improvements, I prefer the new Opera Mini which is supported on most j2me phones.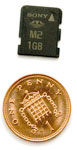 The phone uses the latest Sony memory format Memory Stick Micro (aka M2). If this is your first Sony product you will be pleased with the physical size of the memory; it is the size of a finger nail!
If you however have a few memory stick formats laying around at home you may be annoyed at having to purchase yet another one. The current largest capacity is 1GB and for a brand new format the price is surprisingly affordable (£42).
Vodafone does not supply a M2 memory stick with the phone so if you think you will require more memory than the built-in 62MB make sure to purchase it ahead to avoid disappointment.
Vodafone has yet again branded the phone heavily with their icons, themes and alternative short cuts (majority of them leading online to Vodafone Live!).
It is possible to use an online service to re-brand the phone to original SE settings but I am cautions to do this and maybe risking loosing data connectivity. At least this time Vodafone did not cripple MP3 ring tones capability like they did on the k750i.
One of the easiest ways of transporting contacts to a new phone is via Outlook. Create a new contacts folder in Outlook, set up to sync your phone with that folder and synchronise your old phone. Follow up by connecting your new phone, make sure to select "Outlook overwrites phone" when synchronising and sync the new phone. All your contacts should be preserved.
Update April 2007
I have just discovered the coded memo feature and find it very useful.
It lets you enter multiple codes with a descriptive name and a code field. For example "bank account x" and "1234 1111111".
The information is protected by a 4 digit password. If the wrong password is entered, all the codes are presented scrambled.
This means that a potential information thief can never be sure whether he/she guessed the correct 4 digit pin.
One reservation would be that there is no information on what kind of algorithm is used for the protection nor how well the code memo feature would withstand a hardware attack.
July 17, 2006
It was 1 year birthday of our dog's 6 puppies and a reunion was arranged.
Five of the puppies are with new owners around London and all but one managed to navigate to Richmond Park and our favourite pond.
The picnic started with a bang with 3 golden retrievers running across a couple's picnic.
I suspect that the gentlemen was expecting an apology but none was given by our fearless picnic organiser. Instead the upset gentlemen was notified that 4 more dogs were on the way.
Due to his apparent US accent he was taunted to "sue us when back in the states" upon which he sulkily proclaimed "I am bloody Canadian".
Despite the false start, things took of in a more positive spirit.
The majority of visitors to Richmond Park are dog lovers and everyone was commenting on how gorgeous our pack of 6 Golden Retrievers was.
A few children were almost run over, a few more picnics were terrorised, all white clothes in the vicinity had been jumped up on but the general response was a happy one.
The parting words of everyone was "see you again next year!".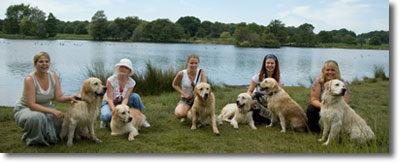 July 14, 2006

You may or may not have noticed that local councils have a new weapon in their money collecting arsenal: Moving Traffic Enforcement.
Under the scheme, local councils can fine motorists that obey certain basic road signs if they catch the motorists on camera.
Disobeying road signs like banned right turns, one-way streets, no-entry, no u-turn and box junctions are some of the contraventions that can result in a Penalty Charge Notice (PCN).
The main reason behind the new scheme is said to be to lower traffic accidents.
Call me cynical but it seems to be yet another way of extracting money from the already tax paying population and I see parallels with congestion charging and parking fines.
The purpose of the Congestion Charge is said to be to reduce congestion in the capital. Why is it then not implemented in the most congested areas but instead in central areas often crippling local business?
A large percentage of the income is due to penalty fees. When a private company introduced a way to minimise on forgotten Congestion Charge payments they were swiftly stamped out.
Parking fines are said to reduce illegal parking and improve the flow of traffic... but in the media there are frequent stories about corrupt parking attendants, performance bonuses based on tickets issued and jokingly easy job application tests.
It is with these bitter experiences that I view the latest Moving Traffic Enforcement. I notice that the appeal process has been altered, greatly reducing the alternatives for a driver to have his say.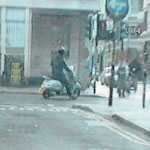 I was recently fined for a right turn. The turn is on my daily way to work and I have been doing it for a long time.
Due to a delay between being caught on CCTV and receiving a penalty charge notice in the mail, I incurred the same fine 5 times.
I had previously successfully appealed a parking ticket but it was a very long process and I did not have the strength to go through all the paper work again.
A search for "moving traffic enforcement" and file types of pdf, doc and xls brings up several internal documents. They discuss the expected moving traffic enforcement monetary performance and on how to lower the amount of appeals because they are consuming resources.
Central London has a very large amount of CCTVs installed. You can literally see one or two cameras on every street corner.
Camden council is up front about the location of CCTVs used to monitor the population but other councils are conveniently quite about it. Does the Human Rights Act say anything about right to privacy?
As long as the CCTV cameras help to increase security and reduce crime I have been willing to accept the price of being monitored. Now the cameras are being used to police the population and dish out traffic fines.
So next time you are about to fart in public, think twice. You are being watched, recorded and registered. Everywhere and always.
July 12, 2006
With the latest destruction of our fine home phone, I have decided it is too much to keep quite about.
The humanity has to know.
A new category (The dog ate it) has been created and I expect to post regularly to it.
Below is a running total of items destroyed by our two lovely, gorgeous, wonderful, smart, little golden retriever destroying machines:
2 x Panasonic KX-TCD560ES Cordless DECT Phone
2 x Sky+ remote control
TV Globo remote control
Garmin Forerunner 301 GPS/Heart rate monitor watch
Various hand made, irreplaceable baby items
15 x various pillows
3 x various head phones
3 x various laptop adapters
Various CDs, DVDs
Various books
Various carpets, rugs
Planted flowers
8 x stem planted rose
9 x pairs of shoes (4 or so expensive Italian ladies version)
2 x leather wallets
Various furniture
2 x leather belts
Now these are just the few things I can think of off the top of my head; there were many more :-)
July 11, 2006
It was my birthday and I was to be wined and dined at the exclusive Rasoi Vineet Bhatia restaurant in London.
Our 2 month old son had just been properly dined (no wine here) and we were confident that he would be safe in the hands of my wife's cousin.
A short drive to the restaurant and finding a parking spot right outside it gave hints of a very successful evening out; oh what a luxury.
The restaurant is renowned for it's Indian cuisine prepared by a Michelin star chef.
Knowing that this was a once in a lifetime experience I went straight for the 9 courses Gourmand menu. The staff assured me that the sizes of the dishes were small enough to be manageable.
An explosion of flavours and colours was just a few moments away.
The restaurant offers a menu of 4 or 6 glasses of (fine) wine to go with the food and this seemed to be a worthy match.
A state of comfortable and comforting tipsiness was just a few moments away.
My wife wasn't as brave (or hungry) as me and went for a measly starter/main/desert combo.
Just as the starters had arrived the phone rang and alarm bells went of. False alarm however, it was just a friend wishing happy birthday.
Two mouthfuls later and the phone was ringing again.
This time it was our impromptu baby sitter informing us that the baby was crying uncontrollably and he was not able to calm him down.
Cue my wife sprinting out of the restaurant and leaving me behind explaining to the staff that everything was fine and asking if possibly we could delay the dishes for a while.
I, or was it my tummy, had made the decision that once the storm was over my wife would be able to return, her appetite preserved, and continue were we left of. Little did I know that mothers with newborn babies do not work nor think like that.
One hour later she was back. Her hair just little bit out of control and no puke on her shoulder either so I assumed things were fine.
I managed to get to course 5 out of 9 when the phone rang again.
Our impromptu baby sitter was informing us that waiting in the car outside the restaurant has made the baby unsettled yet again and that he was forced to drive in circles around the block to calm him down.
This was the final straw on my wife's back and the bill was asked for.
On the way out the person at the door mentioned jokingly that he had seen our car passing by a few times.
July 10, 2006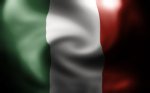 I must confess, with all "my teams" out of the cup, it was hard to root for any of the finalists.
I thought I had hedged my chances by favouring all of Czech Republic, Sweden, Brazil, England and Poland. Unfortunately fate would not have it like that.
Instead it was France versus Italy in the 2006 World Cup final.
France started the cup in an unimpressive way but got a little better witch each game. Then they went on to beat Brazil in the quarter finals and it was '98 all over again.
Italy were a strong team all through the cup and played a very good last game. They even managed to score 5 out of 5 penalties (something they did not do against Brazil in 1994 :-)
What will be talked about for years however, is Zinedine Zidane's spectacular head butt and the following red card.
A football player that has been described as "God" by his country men, at the top of his career, last game of his career, last minutes of a World Cup final and he looses his marbles.
What an ironic last shot of Zinedine Zidane. Him leaving the stadium and the much aspired trophy behind.
Watching the Italian players running around with flags on their shoulders, silly hats on their heads and kissing the trophy... priceless.
WELL DONE ITALIA!
[via Kottke]
July 07, 2006

I had this idea of trying to resurrect an old Sony VAIO laptop (PCG-Z600TEK) with a free distribution of Linux OS. The laptop is to be used as a wireless picture frame if all goes well.
The laptop had previously suffered from intermittent HD crashes and had been collecting dust in a cupboard for a good 2 years.
Weighing in at just 700Mhz and 256 MB of RAM, it is fairly weak by today's standards and I had a feeling that the original Windows 2000 was too much for it.
Ubuntu is a very popular Linux distribution at the moment so I decided to follow the masses and give it a try.
The download was easy as can be but the problems started shortly afterwards because no matter what I did I was not able to burn a single distribution properly.
All in all I tried 4 distributions (AMD64 server/desktop and i386 server/desktop), 3 Cd/DVD authoring software packages, 2 CD-RW drives on two different PCs and about 10 different CDs (two different brands). None was successful!
If you are planning on giving Ubuntu a try, the first thing to check is the check sum of the distribution after the download. This is to ensure that the download was 100% successful.
On Windows you can use the free digestIT or MD5Sum . If you are using Firefox there is a MD Hash Tool extension available.
Compare the generated MD5 check sum with the official Ubuntu MD5 check sums. If there is a discrepancy re-download.
Second step is to burn the ISO distribution to an empty CD. Various CD/DVD authoring can do this, e.g. Nero burning Rom, Alcohol 120% and the free CDBurnerXP Pro.
Using slower burning speed (1-8x) should help towards a successful burn but it didn't in my case.
Once burned, pop the CD in your CD drive, make sure to enable booting from CD/DVD (optical drive) in your BIOS and restart you computer.
Make sure to select "Check CD integrity" in the Ubuntu menu as a first thing. This is where it was reported over and over that my CD was corrupted.
I have posted a few questions on the Ubuntu forums and maybe there will appear a workaround at some point. Until then the Sony VAIO laptop will be collecting some more dust.
Heard on Slashdot: Ubuntu is an ancient African word, meaning "can't configure Debian".
Update
One more disc burned and tested on a third PC (Dell Latitude D505) and Ubuntu booted up properly. It appears that the Ubuntu 6.06 is very sensitive about hard ware being used.
From a quick tour of Ubuntu 6.06, Linux on the desktop has come a long way. It was responsive, esthetically pleasing and with all that Unix goodness.
Short lasting experience though. The Dell Wireless TrueMobile 1350 WiFi card is not supported natively and I was not in a mood making it work with the ndis wrapper.
A memory test on the VAIO showed severe problems so no wonders Ubuntu did not boot up on it.
July 05, 2006
...and he has made us laugh for the last 7 days. We managed to watch almost 20 episodes during that time.
Earl is "that kind of guy who does nothing but bad things and then wonders why his life sucks".
In a weak moment he realises that he has to change and sets on to a path of Karma: "Do good things and good things will come to you".
We get to follow Earl, his bearlike brother Randy, his ex-wife Joy and the always chilled out Crabman.
Earl is played by the incredibly charming and down to earth Jason Lee and I dare to say that he transforms this small town, trailer-park comedy into a pure gem.
Catch the show on
Sky
. The show is in HD over in the US but on
SkyHD
there is only SD.
July 01, 2006

I thought I would be telling you about how I was enjoying the Dark Side of the Moon being performed by Roger Waters but instead I will be telling you about how I didn't. The story is just as good I believe.
My wife had purchased 4 tickets for Hyde Park Calling, 1st of July, long long time ago. We were under the impression that a) 2 friends would be joining us and b) we would find a baby sitter. Well a) the 2 friends freaked off on a belated honey moon and b) no baby sitter was to be found.
In addition Ticketmaster had failed to deliver the tickets (despite a £5 charge per ticket) so I had to head my butt over to the box office to pick them up.
Scalpers were buying up tickets for £5-10 and selling them for &pound40 so it was a pretty cut throat environment trying to sell the tickets off.
Due to having so much more class than any scalper, I managed to unload one ticket for £40 and one at £20.
The third ticket was almost sold but the girl was hesitant because she thought I was selling fake tickets.
After persuading her about the authenticity of my wares, she jokingly mentioned that if I only had a friend that would join her because going to rock concerts was no fun alone.
I was about to say sorry but when I realised that a friend was on the rebound and that this could possibly turn out to be a great story to tell the grand children.
A phone call and 10 minutes later the friend was on his way super excited about Dark Side of the Moon and fairly excited about the blind date.
Sometimes life is all about those spontaneous moments that make it diverge from the seemingly fixed path of faith.
I am very much looking forward to hearing about the outcome; no details spared!