« 4D baby scan | Main | The secrets of iTunes and iPod recording »
Torino 2006 Olympic figure skating photographs
March 02, 2006
Keywords:
torino
2006
figure
skating
torino2006
PhotoJournalism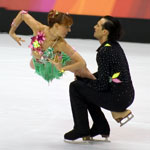 Last week we attended two evenings in the figure skating competition at the Torino 2006 Olympics.
(cut the talking and just show me the photos will you)
This was a nice opportunity to snap away with a big zoom lens and gave me a first hand experience in what I think can be called (amateur) photo journalism.
This included the taking and managing of a large amount of photos and finding an efficient RAW workflow.
During each evening there were 25 couples on the ice. On average I shot 10-15 photos of each couple. Using the built in LCD, I then quickly checked the photos and erased the obviously bad ones. This got it down to 4-6 photos per couple.
I can only fit 180 raw shots on the 1 GB compact flash (CF) memory card I use so the erasing of bad shots in between skating couples was necessary.
The equipment I used was a Nikon D70 (digital SLR) and a Sigma 70-300 mm (100-450 35mm equivalent) zoom lens.
The camera model is a fairly sophisticated SLR and includes some of the required features: shutter speed priority metering mode, continuous focus and continuous shooting mode.
Usually I can get steady shots at 1/30s using a 35mm lens but with the 300mm lens I could not go below 1/180s. Once I had noticed this, I locked the camera's shutter on 1/180s.
This created many underexposed shots but it was only by .5 to 1 step underexposed and I knew I could compensate for this since I was working with raw images.
If I have to choose between blurred images due to camera shake and 0.5 step underexposure, I choose the underexposure any day.
With continuous focus I could follow the subject and the camera kept re-focusing continuously.
One drawback with the D70 is that it doesn't have eye controlled focus. This forced me to keep the subject in the very middle where the camera focuses in order to stay in focus while in continuous focus mode.
On my older EOS-5 one can position the subject off center but by looking at it in the camera view finder, the camera keeps focusing on the subject.
The lifts were in my opinion the most beautiful and breathtaking part of the performances. In order not to miss any action shot, I let the camera fire 3 shots in quick succession during the lifts.
To travel light, I had not packed the camera battery charger with me. As the days progressed, I kept wondering when the battery would give in.
It did so after 5 days of shooting and after more than 370 shots. This included frequent use of the LCD screen and I find that impressive.
Back at home I was first overwhelmed with the large amount of photos. It took me a few days to summon the strength to start sorting through them.
With a large cup of tea next to me I started by viewing the photos on a large monitor and assigning a score between 0 and 5 to each one. At the same time I deleted the ones that were too blurry.
Several cups of tea later I could finally filter for photographs with a score of 3 or higher.
Had the project required more photographs I might have included score 2 as well. Had the project required just the best of the best, I would have only included photos with a score of 5.
At the moment I find this to be the best method to control a large collection of photos.
I then soldiered on by adjusting the white balances (mainly a batch process to majority of the photos since they all were from same light conditions) and exposure compensation.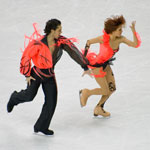 Normally I try to present photos just as they are captured without added cropping. This requires composing the image in the camera viewer as much as possible at the moment of capture.
However due to the fast nature of figure skating, a 450mm lens and awkward spectator seats the photo compositions were all over the place.
So my last step was to reposition and crop each photo individually. I made sure to stay with the 3:2 proportions of my camera.
If you are up for it, there are many, many more photographs in the Torino 2006 Olympic figure skating photo gallery. View slideshow, delay 1 or 3 seconds, max size: no limit.
It was a lot of work but a great experience.
Update 2006-03-07
A here is the professional version of photo journalism (via Kottke).
Related entries:
Comments
YC Says:
March 2, 2006 06:13 PM

These are really great pics...you even captured the 'Million Dollar' shot of the Italian Pair falling. Wow.

What other events did you go to?

Btw, I can relate to your 'Driving in Italy' story...I have visited a couple of Asian countries...and it's scary to be on the roads.

David says:

We went just to original and free dance and to ice hockey, Canada vs Czech Republic.

Heh, there were quite a lot of falls in the original dance event.

Driving a car in India was quite messy too; being a pedestrian there was even worse!
Post a Comment