« December 2003 | Main | February 2004 »
January 27, 2004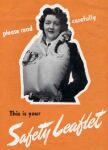 Once again Carla's "I told you so" is ringing in my ears. I was planning a trip to Sweden and was sucked in by the £2.99 advertised price on Ryanair.com web site. I was travelling alone and figured I would be able to handle the early departure and other inconveniences.
In the end the trip turned out to be a lot more expensive than the lucrative £2.99 and I would like you to consider the following before being lured by the prices of such airlines as easyJet, RyanAir and Buzz.
Update 30/01/04

"A disabled man who was forced to pay to use a wheelchair at Stansted Airport has won his case against Ryanair." (BBC News)
Good, now if only something could be done about the belittling staff.
! The announced price is very low because the companies do not show the additional fees until you are in the middle of the booking. They levy all kinds of fees including extra insurance due to 9/11 and card fees - paying by card is often the only option by the way.
! The flights are at odd hours; very early or very late. At many destinations the public service is not in service and you have to resort to taxi fares.
! To make it worse, the departure airports are often remote. Standstedt in the London case, is 45 minutes away by express train. The destination airport are likewise remote and not at all the advertised ones. It says Stockholm in big letters but Vasteras in small letters underneath (50 miles distance). It says Paris in big letters but Beauvais in smaller letters (35 miles distance). Same story for most European destinations.
! Check-in time is up to 1.5 hours before departure time; arrive less than 40 minutes before stated departure time and you will not be allowed to check-in.
! Recently Ryan air lowered the allowed check-in luggage weight to 15kg (33lb). Excess fee per kilogram is £5 and I ended up paying for five of those suckers.
! Pre-departure and on-board service is scarce. Restrict communication with the staff to a minimum.
! There is no reserved seating so you and your partner can end up on separate seats.
If you find an announced one-way price of £1 then go for it but if the one-way price is closer to £50 check the regular airlines first. Deckchair is one good resource.
Now repeat after me. Hear me now and hear me well: never again.
January 22, 2004
What a treat it is to visit this exotic yet elegant restaurant in the heart of London. Asia de Cuba is situated in the beautiful St Martin's Lane hotel, giving you a chance to see one of the coolest hotel lobbies around. Look around and enjoy the slightly surreal entrance, the oversized chess pieces, the ambient lightning and odd furniture.
As the name suggests, the food on the menu is a (brave) mix between Cuban and Asian flavours and traditions. The colourful descriptions will fire up your imagination but the food will surpass it. My standing favorites are Seared tuna with Wasabi mash and Surf n' Turf so try these if you are having a hard time deciding.
The portions are deliberately large to be shared. They are a key element that makes Asia de Cuba unique and every dinner to a social event. For a group of four, two starters and two mains are more than enough.
The staff is the best I have experienced in London. A very good balance between personal, knowing, recommending but never in your face. Always making sure that the customer is fully satisfied. You will often be served by two or more individuals; one of them being knowledgeable about the wines while the other about the food and the rest. Don't be shy starting a conversation.
If I have to find something negative about Asia de Cuba it would be the prices. It is simply above my everyday budget and some people find it over priced. It's nice to start the evening with some drinks and they are around £9. The good wines are in three digit price range and thus unreachable. The sharing of the food helps a bit and I think £50 / person is a rough price tag for the superb experience.
45 St. Martin's Lane, Covent Garden, London, WC2N 4HX [Map]
Tube: Covent Garden
Tel: 020 7300 5588 (book early!)
January 15, 2004
For some of the features on this web I have been inspired by others. Sometimes I have used code developed by others and sometimes images supplied by others.
This is where I would like to thank those individuals.
SixApart: For developing an excellent (and free) self publishing application; Movable Type
Moopet: For the blogging bug and the Lightsaber image
Scriptygoddess: For scripting bits and bops and most recently help on how to dirify with PHP
Google: For their API and translation tools
KnowProSe: For an elegant translation solution
Eliot: MTRefSearch
Just Like a Dream: Giving credit
shari: slidingonrainbows bkr pattern
Thank you all and keep on trucking!